About | Plan | Pictures | Construction | Scenery | Signalling and Control | Layout Team | Exhibitions
Exhibitions Horton has attended
Rainham (Kent) - September 2002
Maidstone (K&ESR) - October 18/19 2003
Gillingham (Kent) Model World - November 8/9 2003
Erith - Jan 24/25 2004
Brighton Model World - February 13-15 2004
The revised 32' layout with rebuilt station area has attended: -
Gravesend - November 2004
Crawley - April 3/4 2005/li>
DeHaviland MRS, Hatfield - May 7th 2005
Melksham Mega Model Ex, Wiltshire - September 30 / October 1 2006
ABRAIL, Abingdon, Oxfordshire - March 3 2007
Wight Model Railway Exhibition, Newport, Isle of Wight - November 2007
Available for Exhibition
Horton is available for exhibition at your show. The layout requires up to 8 operators, a large Luton van and if more than about 90min from South London, accomodation would be required for the core team of 6 operators. This layout is available for exhibition and is looking for invites for 2012 and beyond. We will consider shorter notice exhibitions on request.
We offer a fast, frequent service to keep your visitors entertained. In addition, we have an on-train camera, and public screens to view our complex computer control screens with live train movement and signalling status.
If you are interested in inviting Horton to your exhibition, please Contact Us for further details.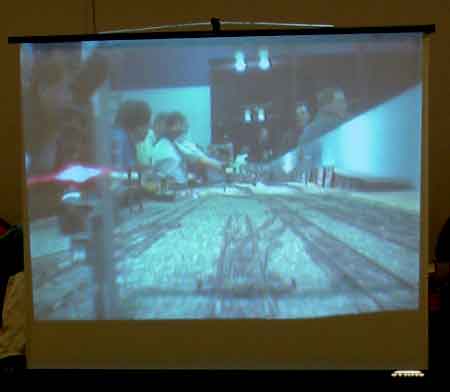 View from the on-train camera on a projector at the Hatfield show