New 0 Test Track
Scale: 0
System: DC and DCC
Size: 14ft x 14ft
Period: 1900 to 2000 ?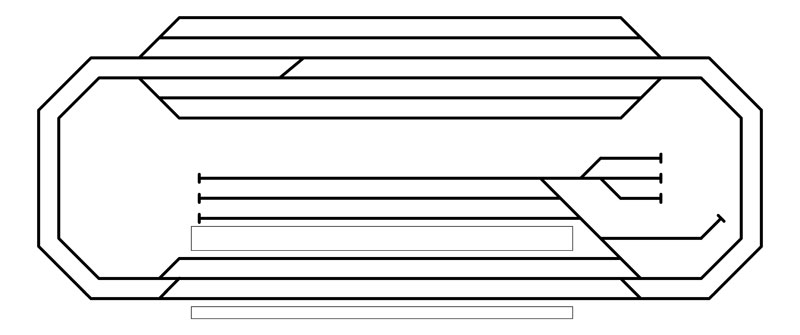 The test track was designed so that it can be used as part this new oval layout. The 10 curved boards have 2 tracks, and the inner curve is just over 6ft radius. The 4 fiddle yard boards will have 6 storage sidings, 2 boards are 2 ft wide and the other 2 are 2ft wide tapering to the 1ft curve boards The front 4 boards are all 2ft wide, they will have a station, goods yard and a small loco yard. The baseboards are laser cut modules from Tim Horn.
The current plan is not to fix anything that is period defining, such thing should be replaceable so that we can run locos and stock from any period. One member has stock from 1910s, and others have 1950s, so we aim to be flexible.
To Do List
June 2022
Work needs to be done to improve rail gaps at the baseboard joints.
Make legs. Legs are 39" long, of 44mm x 44mm wood. Foot insert is an M8 threaded insert, so needs a 12mm hole 1" deep.
Fit cross braces to pairs of legs.
Fit and paint the edges. Baseboards are 110mm deep. Edge of the curved boards is 25mm above the top, so 135mm deep.
Fit front edge. Needs to be 140 to 145mm wide to be level or above the platform.
Fit a low back-scene. Needs to be about 250mm wide, 140mm above the top (a scale 20ft).
Make end boards, just over 270mm high for the fiddle yard, about 400mm for the front boards.
Straight track, we need about 48 yards. We should have some.
We already have some re-cycled Peco points for the fiddle yard.
Build the NX panel.
Fit point motors, servos for the front, we have soleniod ones for the fiddle yard, and relays for the frogs.
Add the control system including track circuits.
After that we can run trains and add a little scenery (there will not be much space left after adding all the track) and some signals.