? Wharf or Quay
Scale: 7mm:1 foot
Period: ?
Location: ?
System: DCC (but sometimes DC)
Size: 16ft x 2ft.

A planned small 0 gauge layout to fit our new location. Probably a wharf or quay side, with a working crane ? Some Buttons for people to press and have something happen on the layout. We are willing to take any good ideas.
Aims
Finescale 2 rail DC or DCC.
Work as a test track, with long straight track, 6 ft curves, and 5ft curves in the goods yard.
Be small enough to store in the shed, and fit in 1 car.
Erect or pack in under 15 mins so we can use it in an evening.
Minimise the number of separate parts, adjustable legs should fold out to reduce set-up time.
Light weight so easy to move into the shed or a car.
Passenger trains: up to 2 coaches plus a loco, push pull or multiple unit.
Goods trains: at least 5 goods wagons, a brake van, and a loco.
Include a shunting puzzle.
Good enough to take to shows and St. George's church craft fair.
Yet another possible plan (Not final)

4 baseboards, 4ft x 2ft. 12in tall backscene. So 2ft x 18in endboards. So needs about 2ft x 3ft floorspace in the shed when stored on end.
Blue area is the canal. Dark blue area is the platform. Black is a roadway with working level crossing gates? Yellow area is fiddle yard behind something scenic, an inn?, offices, but mainly warehouses as it's a quayside. Brown areas are buildings, mostly in low relief. Green is a goods shed, with working doors, so wagons can be unloaded or loaded, but how to uncouple and couple inside the shed ? Cyan is lever frame for points and a ground frame for shunting. Needs a working gate between the railway and quayside?
Some changes to the plan to enable the use of cassettes, 18 inch cassettes for locos, 39 inch cassettes for stock, in 5ft of fiddle yard space. Trains limited to 4 ft 9 inches (scale 200ft), the length of loco is limited by the run round to about 490mm (70ft).
Some pictures taken after laying the track and wiring it up, before paving the quayside and doing the rest of the scenery.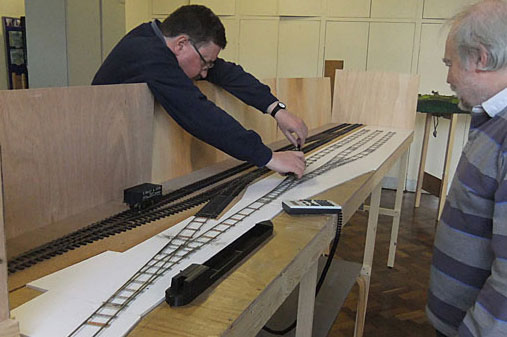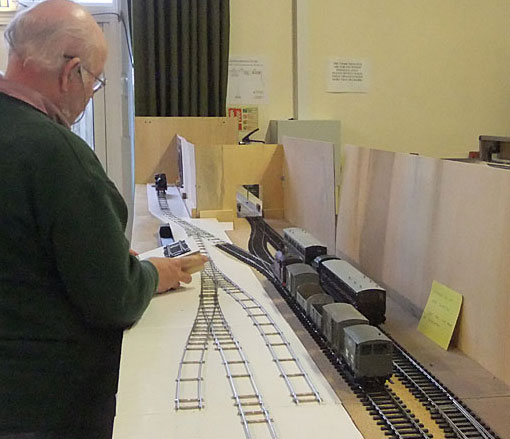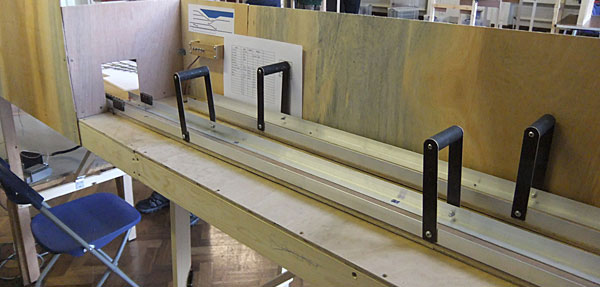 Quick drawings in SketchUp showing how the 3rd and 4th baseboard might look.
Points operated by r/c servos ? Operate from back at shows, from front for shunting. 16 ft long for test track either straight or with curves. Needs 7 points, approx 16 yards of track.
Inglenook Sidings
A quick explanation: There are 3 sidings, 8 wagons, 1 loco, you have to form a train of 5 wagons, with limited siding and headshunt length.
The sidings can have at most 5 wagons on one siding, and 3 wagons in the other two. The headshunt to the long siding can hold a maximum of 3 wagons plus the loco. (We will have to have marks to show the limits as the sidings are longer.) We need 8 different easily recognised wagons (Private Owner wagons or different loads in wagons ?). Set in a fixed starting position with 5 in the long siding and 3 in one of the short sidings. Also a small shunting loco. Shuffle the 8 cards with wagon pictures, pick 5 cards in order of the train to be made up, (6720 possible combinations). Form the train in the minimum number of shunting movements.