Greenwich Crooms Hill
Owner: Mike Kennedy
Scale: 7mm:1 foot
Period: 1903-1913
Location: Greenwich
Size: 30 ft x 3 ft
System: DCC
Greenwich Crooms Hill is based based upon Greenwich LCDR - Later Greenwich Park. It was the terminus of the LCDR branch from Nunhead. At first the branch was built only as far as Blackheath Hill (opened 18.9.1871), with intermediate stations at Lewisham Road & Brockley Lane (Brockley Lane had Great Northern & LNWR coal depots), as finance for constructing the line ran out. It was originally intended that the terminus would be at Greenwich Crooms Hill but due to the above delay it was actually built on Stockwell Street and opened on 1.10.1888. Greenwich Park was closed to passengers 1.1.1917 as a wartime economy measure but never reopened.

Greenwich LCDR was a compact double track city termini. It was designed for excursion traffic (in addition to normal services) but lacked freight facilities due to the constricted site available on Stockwell Street. The branch had Great Northern & LNWR coal depots but lacked any facilities for the Midland Railway.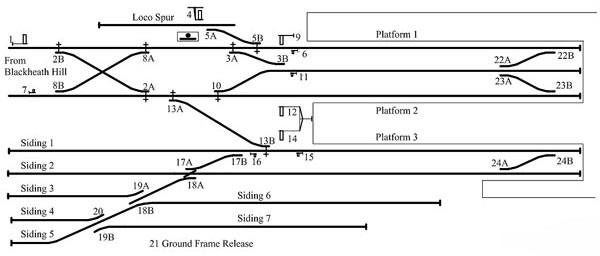 The layout scenario is that whole line was built as planned to Crooms Hill in 1888 with Midland Railway funding in exchange for coal yard, goods warehouse and passenger and goods trains running rights. The layout follows the Stockwell Street track plan, but straightened, with additional sidings and loop to bay platform. The sidings extend to front of fiddle yard so whole length of layout is scenic. Service and excursion trains are also run from the LSWR & the LNWR.
The Track is 7mm 'finescale', hand built to Templot track design software plan with C&L components. The layout power is DCC, Lenz system. Track & Signal Control is via a 24 lever Ambis frame plus a ground frame for yard these drive model aircraft type servos using MERG drivers with relay switching of crossings. The semaphore signals are being hand built with ground signals being 3D printed.
The Rolling Stock comprises:
Locomotives - SECR: D, 3x C, G, H, 3x P, R1(0-4-4), Ex LCDR Aeolus, Tiger, Ex SER R1 (0-6-0), Q1, Terrier; Midland Johnson 1P & 2x1F; LSWR 'Radial', T1, Terrier; LNWR Precursor tank; LBSC Terrier
Coaches – SECR: Bogie: 2x Trio sets, Greenwich Park 'sandwich' push-pull set, 2x Tricomposite, 2 other; LCDR 20+ 6 & 4 wheel; Midland 6 (under construction) & 4 wheel sets; LSWR & LNWR sets.
Wagons – 50+
This layout would not be possible without the contributions of Mike's friends including Brian Humm, Mike Johnson, Nick Taylor, Brian Cameron, Bruce Methven, Bill Bishop, Michael Ball, Ian Hopkins, Ted Stephens plus others especially from the Beckenham Club. Mike has been able to purchase material from the estates of Malcolm Parker and Robin Fielding.
Photos March 2019