Staple & Ash
Contact: Noel Young
Builder: Jez Laming
Scale/Gauge: 4mm / 00 Gauge
Size: 16ft by 2ft (Needs 16ft by 6ft)
Exhibition layout: Yes.
Type: end-to end


Opened in 1916 as part of the East Kent Railway (EKR), Staple & Ash station was located between the two villages it served and was locally known by staff as "Durlock" (the name of the nearby hamlet).

Alongside Shepherdswell, the station was said to be the busiest on the EKR. It was reported to have handled more than 20 vans of local produce in a single day with consignments having to be left in the yard overnight to await the arrival of more empty stock. This important station was later renamed "Staple" when Ash acquired it's own very basic halt. In 1925 Staple became the operating headquarters of the Eastry to Wingham branch.
During WWII the station was taken over by the MOD to serve a nearby large munition dump and was also used as a location for two 12" Howitzer rail mounted Guns.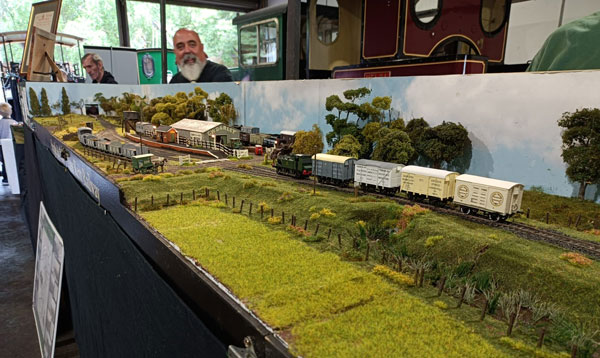 The EKR system was closed to passengers by BR in 1948, closing to all traffic north of Eythorne in 1951. There is no longer any trace of Staple station, the site is currently being used as a small farm.
Unusually for a Col. Stephens Enterprise, the line between Shepherdswell and Tilmanstone Colliery remained in use until the pit's closer 1986, the line officially closing in 1987, this remaining section is now operated as a heritage Railway (www.eastkentrailway.co.uk).
Built in four sections the layout depicts the station and railway during it's heyday sometime in the mid 1930's. To allow for a more interesting operation I have assumed that the planed extension to Canterbury and the connection to Chislet Colliery have been completed whilst running a typical mix of light railway stock.
Unfortunately, Jez who built the layout passed away so the layout is now being exhibited in his memory.