Exhibits | Admission | How to get there
ONE DAY Vintage toy train show 2013
St John's Church, Eden Park Avenue, Beckenham, Kent BR3 3JN.
South London's Premier Vintage Toy Train Show with around 8 different working layouts.
Saturday 9th March 2013 10am - 5pm
Our fourth annual Beckenham Vintage show rang the changes yet again with nine layouts all different and seven well known traders. Plus the B&WWMRC Club Shop and much praised good quality catering.
Setting up and the Saturday night clear up was made a lot less painful with many more helping hands than last year to move chairs and tables around the halls. Brian arranged for additional tables from the Honey Club to be delivered to and collected from the Church and the Club Shop stock was brought up in several car loads thus avoiding the need to rent a van. Brian as ever was the mainstay of the shop and it was interesting to see that of the first ten through the door nine headed straight for the shop!!
The main feature layout this year was Mark Carnes magnificent Gauge One layout. Much of the stock was naturally from the Edwardian era when they were very much the rich man's toy. With Mark's usual attention to detail and careful preparation they ran as well as they looked. But also running at one point was a modern production Gauge 1 GWR Prairie Tank with radio control, whistle and hopefully soon a smoke unit. My personal favourites are the freight trains, with the private owner wagons and even a Carne Oil Tank Wagon. But the Sam Fay 460 and GC coaches also looked superb. You need a lot of space for these trains and everyone wondered how Mark and Bruce Palmer fitted everything into a Fiesta!!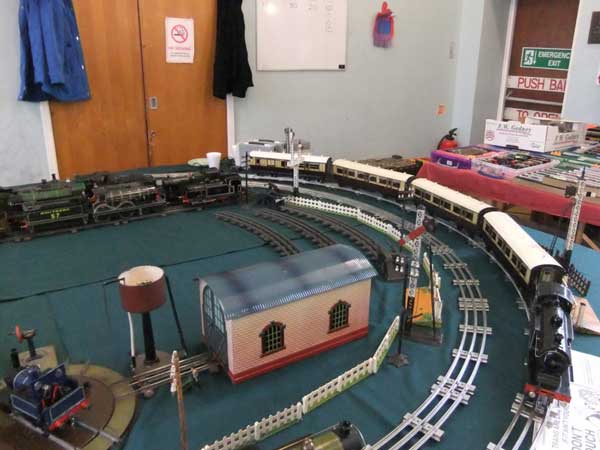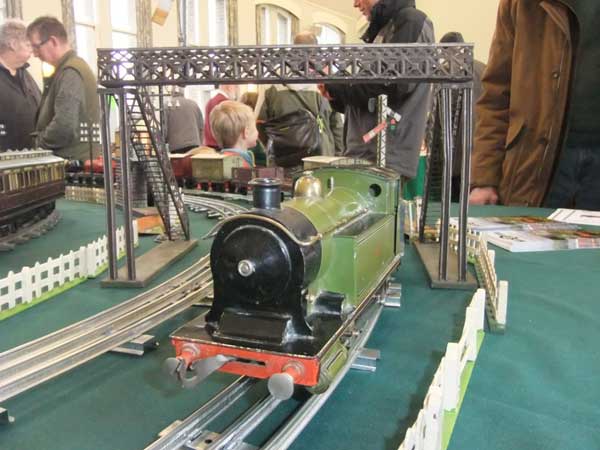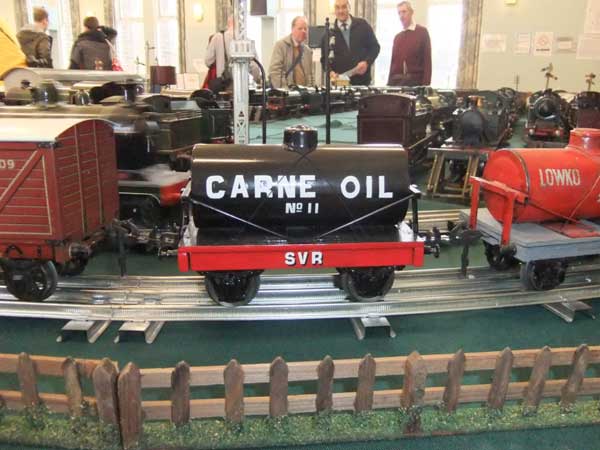 David Embling last year brought Margate Mainline, but this year switched to the other end of Hornby O Gauge production by running his low(er) cost Children's Hornby layout. Assisted by Monica Embling and Terry Penn, three tracks were kept running with mostly clockwork, but also some electric powered locos to relieve the onset of 'clockers wrist'. Monica had acquired some farm models from the Club Shop including an appropriately sized farm house which adorned the centre of the layout.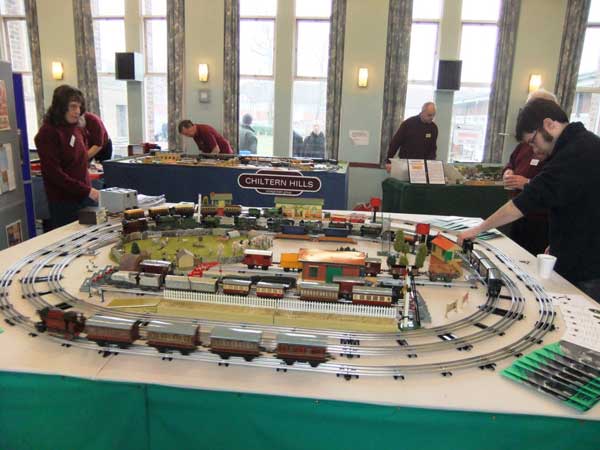 Hornby Dublo three rail and two rail self standing layouts from the Chiltern Hills Group of the HRCA. Lead as usual by Derek Smith and Ron McCaski these layouts were as entertaining as ever and featured many of Derek's Dublo Style creations.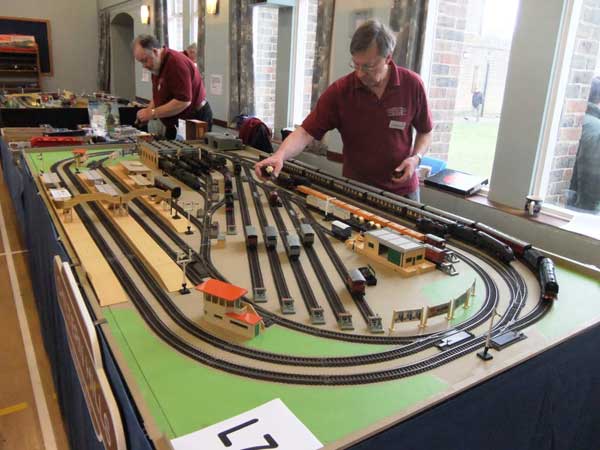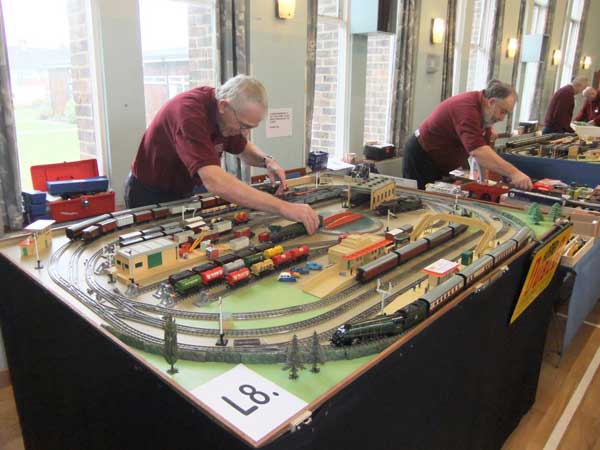 Andy Hyelman brought his Continental HO Round House Zfs Puchenthal. With all the overhead electric wires it is a complex and interesting to watch the locos being moved around via the electric turntable.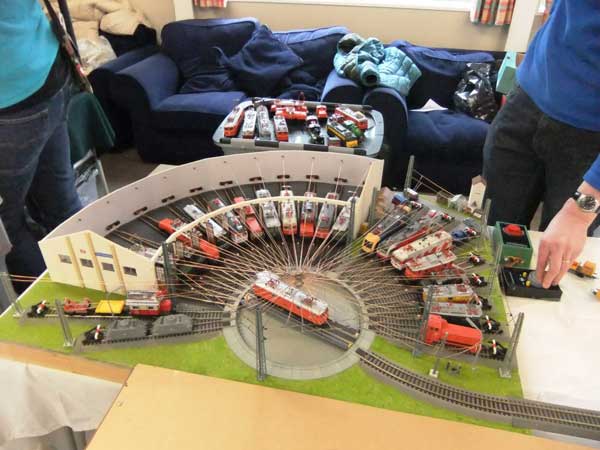 Peter Ingleton's MiniTrix and Wrenn Micromodel layout was very popular although some were surprised to see an N Gauge layout at a vintage show. Well N Gauge dates back to the mid sixties and as such is older than much of the Triang Hornby which no-one thinks of being out of place. The layout runs superbly and as usual with Peters layout is also fully sceniced. These were the first really successful ranges of N Gauge and the foundation for the trains you can buy today.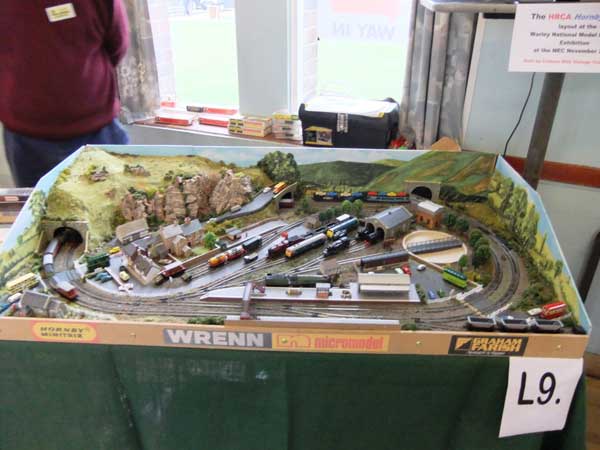 Les Martin put together on his own an impressive multilevel early era Triang layout with three ovals of Series 3 Track and an elevated Standard Track oval. The Series 3 track had been prepared by James Day and showed none of the running and voltage drop issues that means most of us avoid using it. Les always puts on an impressive layout and this one was no exception.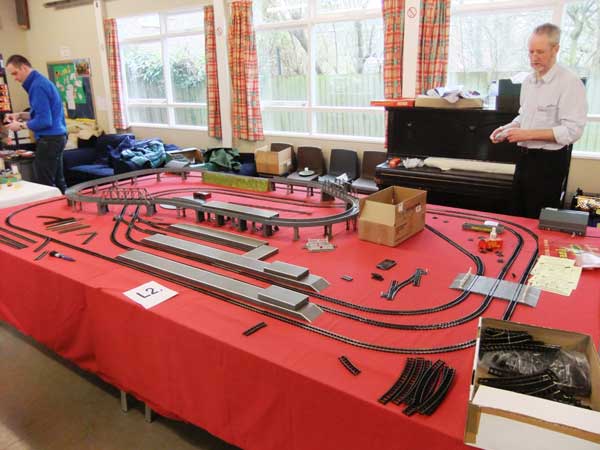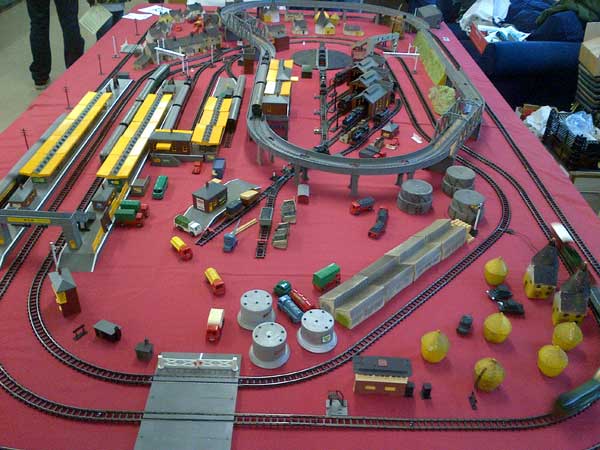 Triang TT was represented by Eric Large's well known layout brought out of retirement especially for this show and was as impressive as ever. Along with the mainstream Triang stock Eric as usual had examples of the kit loco bodies for use with Triang mechanisms and kit built rolling stock.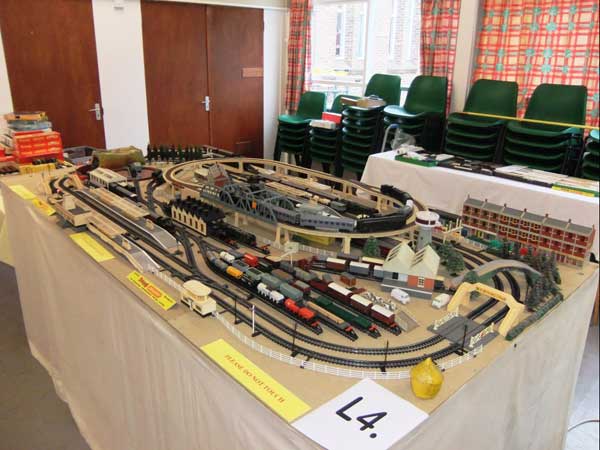 Electric O-Gauge was represented by Terry Heaslip's layout based upon the one he regularly exhibits at Orpington Toy Fairs. Running with a mix of different makes Terry disproves the popular myth that you cannot run O-Gauge on tinplate track with points. Watching a No 1 Special Tank hauling a long rake of No 51 Blood and Custard four wheel coaches through a Y point and right hand point combination for lap after lap with total reliability is an impressive sight.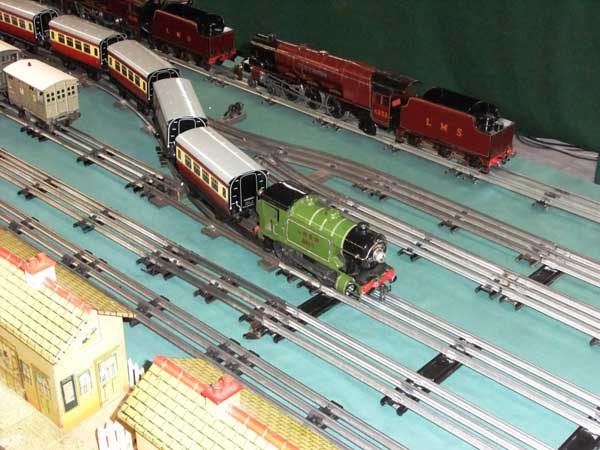 Traders were represented by Cliff Maddock, David Wills, Graham Broughton of Bexley Models, Brian Baker, Elaine Hyelman with Elaine's Trains, Andrew Kwasnieski's WM Collectibles and Peter Dunk.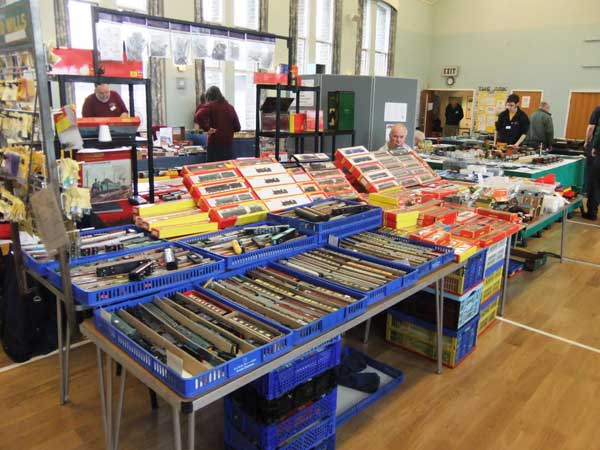 The TCS stands were manned by Rod Hannah and Roger White. David and Monica Embling also manned the HRCA stand alongside their layout.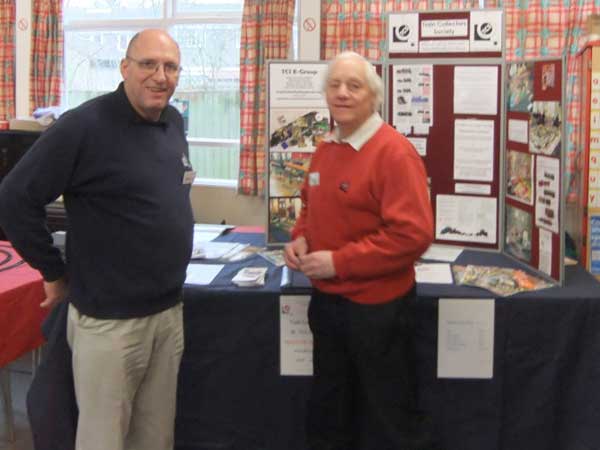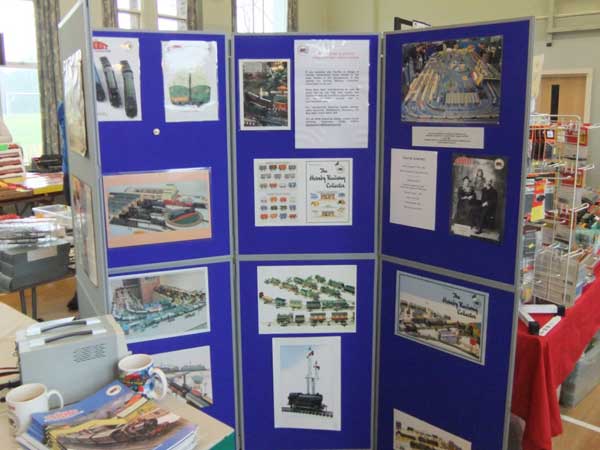 And Brian manned the Club Shop all day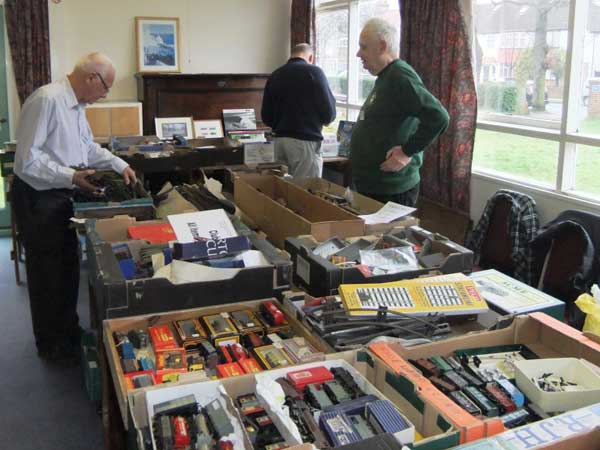 Four layouts and seven traders are already booked for next year's show so reserve April 5th 2014 in your diary.
Admission
£4.00 per Adult, Children (up to 16) accompanied by an adult free.
How to get there
Click HERE for a map.

By Train: South Eastern Mid Kent (Hayes) Line to Eden Park from Elmers End (for Tramlink), Clock House, Lewisham (for DLR), London Bridge- 10 minute walk.

By Bus:
Nearest stops are about 10 minutes walk from St John's Church. Click here for bus maps.
Route 194 (Sydenham - Penge - Beckenham - West Wickham - Shirley - Croydon) to Eden Park
Route 352 (Bromley - West Wickham - Beckenham - Lower Sydenham) to Crease Park
Route 356 (Shirley - Elmers End - Anerley - Forest Hill - Upper Sydenham) to Eden Park
Route 358 (Orpington - Bromley - Beckenham - Penge - Crystal Palace) to Eden Park
Route 367 (Bromley - Beckenham - Elmers End - Shirley - Croydon) to Crease Park

By Car:
Further: From the West, Junction 6 of the M25, then A22, A2022 Sanderstead, Selsdon, Addington, Coney Hall, A232 West Wickham, A214 Beckenham OR From the South East or Dartford Crossing, Junction 4 of the M25, then A21 Bromley, A232 West Wickham, A214 Beckenham.
Local: From Beckenham, Elmers End and West Wickham. The Church is in Eden Park Avenue, off Upper Elmers End Road.

Please speak to a steward if you have special requirements such as requiring wheelchair, parking or access.
Why not come along and see our layouts for yourself ?
Please Contact Us for further details.