The Club's bi-annual exhibition at our NEW location here at Forest Hill Boys School is a major event in the club's programme, and you are very welcome whether you are a regular attendee or a new visitor. Our New Exhibition Manager has put together a selection of layouts and stands to provide something of interest whether you are involved in the hobby or a member of the public. We welcome you to our new venue with more space and better transport links for you all and amazing food area with homemade cakes... Yum!
If you find your visit to the exhibition has sparked a latent interest in the model railway, please ask one of the exhibition stewards for details of the club and come along one evening to find out more.
The success of an event such as this requires a huge amount work by the club members, I personally would like to take this opportunity to thank them on your behalf for their hard work not just over the period of this weekend but throughout the year in preparing the home layouts on show and the other matters of general administration.
You may wish to look at the plan on the centre pages to help guide you around the hall. We welcome your views, so please track me down. Enjoy the show! Finally, we would like to thank our show sponsors this year for supporting the show. Kent Garden Railways, Invicta Model Rail, Harrison Brown Models & Heritage in Motion. Prizes from Bachmann, Hornby and Rapido Trains UK.
The Beckenham and West Wickham Model Railway Club.
Stand 1 : Forrestone — N Gauge by Sean Healy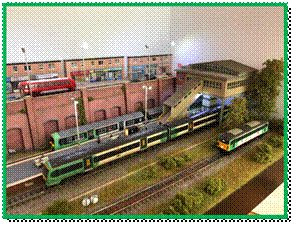 Forrestone is a small N gauge layout based of a fictional spur off a south London main line comprising of 2 platforms and a locomotive depot for a freight company. The layout is run on DCC and is controlled with iPads and iPhones and includes locos with sound.
Stand 2 : Invicta Model Rail
New Items & Books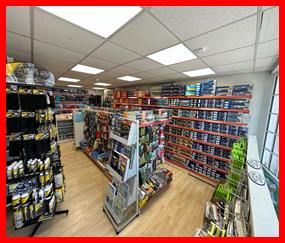 We are proud to be stockists of most major model railway brands including:- Hornby, Bachmann, Dapol, EFE, Evergreen, Javis, Heljan, Peco, Graham Farish, Expo, Gaugemaster, Kestrel, Metcalfe, Mintrains, Oxford, Parkside OO, Ratio, Wills, & Woodland Scenic, In addition we carry North American HO from Athearn, Atlas, Bowser, BLMA, Kato, Kadee, MTH and Walthers, and North American books from Kalmbach, Morning Sun, and Withers Publishing.

Website — www.invictamodelrail.com

Phone — 0208 302 7774

E-mail — invictamodelrail@btconnect.com
Stand 3 : Bachmann Europe plc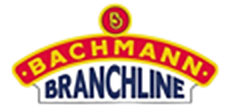 Bachmann showing off range of new models in N, 009 and OO that are due out along with Bachmann Collectors Club exclusive models.

Website — www.bachmann.co.uk

Phone — 01455 245 577
Stand 4 : Model Railway Signalling Solutions

A range of modules to allow prototypical signalling for model railways. Designed to be simple to install, with no programming required. Train detection built in. Developed by a retired signal engineer for Network Rail.

E-mail — modelrailwaysignallingsolutions@outlook.com
Stand 5 : Harrison Brown Models

We are proud to be stockists of various items including Adhesives, Filler, Arts & Crafts, Die-cast models, DVD, Matchstick kits, Model railway buildings, Model Wargames, Paints, Plastic Kits, Figures, Tools and Accessories.

Website — www.harrisonbownmodels.co.uk

E-mail — harrisonbrownmodels@yahoo.co.uk
Stand 6 : The Yard — 32mm & 16.5mm by Martin Coombs
Built to 7mm scale with track gauges of 32mm and 16.5mm, The Yard is an entirely freelance industrial type of railway, featuring standard and narrow gauge trains fitted with sound, radio-controlled gantry crane and radio controlled lorries. Stock is either kit built, scratch built or modified RTR. All the buildings are scratch built from MDF, cut on a laser cutter. Baseboards are plywood and foam, supported by a steel leg unit. Control is by DCC using the Gaugemaster Prodigy, points controlled by MERG CBus system. Special attention has been paid to presentation and operation, we run a very intensive display featuring all working aspects of the layout.
Stand 7 : Raffle
Chance to win a prize... Thanks to Bachmann, Hornby, Rapido Trains UK and others for the donations. All the money raised will be going to Alzheimer's Society — As a club we like to support them.
Stand 8 : Scrapworth End — OO Gauge by Shaun Blake
Set in the present day, the layout is set on a small TMD that sees a variety of rolling stock for light maintenance and refuelling. The idea for the layout was to test the new Peco Bullhead track by the previous owner and Scrapworth End is the result. The layout was purchased to gain experience in exhibitions.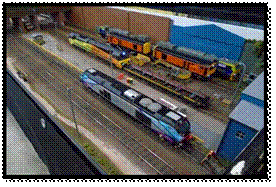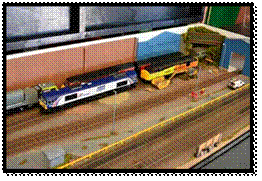 Stand 9 : Andy Lynch — Second-hand Trader
Lots of lovely pre-owned model railway items across all the gauges to tempt you to add your model railway collections. We buy in your loved collection too.

Phone — 07944 212902 / 01634 573326
Stand 10 : Selborne — 009 Gauge by Julian Evison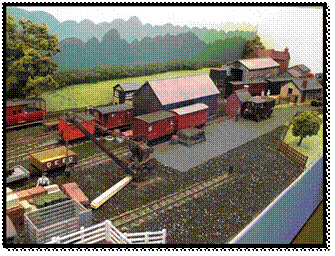 Selborne is a prosperous village of about 1200 people situated on the Hampshire Downs; it attracted (and attracts) many visitors. In 1900 it was, once again, being missed out by a new railway line in the area so decided to 'do something' about it, even if it was, perhaps, not the wisest thing.
The new station at East Tisted was about 3 miles away and could be reached along a fairly level route, with the exception of the first half mile. Work started in 1901 on a narrowgauge railway to keep costs down. The Tisted and Selborne Light Railway opened in 1903 with an extension to Liss in 1908. It prospered initially, but badly misjudged its prospects after the First World War, buying more stock, when takings were declining. Despite all the cost savings, by 1935 the end was in sight and it closed on 20th January 1936.
Stand 11 : Kent Garden Railways — New & Second-Hand

We stock British 00, O and N as well as specialising in American HO and N. KGR are primarily a web, mail order and exhibition business. We are happy for orders to be collected and offer a counter service on Mondays, Tuesdays, Thursdays and Fridays from 10:00 to 15:00 but please telephone before travelling.

Website — www.kgrmodels.com

Phone — 01689 891 668
Stand 12 : Elbow Lane — 00 gauge by Dave Smith
Elbow Lane is small run-down branch line terminus in South London. It has a short, dilapidated platform for shuttle trains. Another older platform is no longer used for passengers and is now just a shunting neck for the goods dock. A small loco stub that also doubles as a fuelling point. The Layout is DCC sound is used to full effect in the loco stud. Trackwork is Peco 100 bullhead and rolling stock uses hands-free magnetic couplings.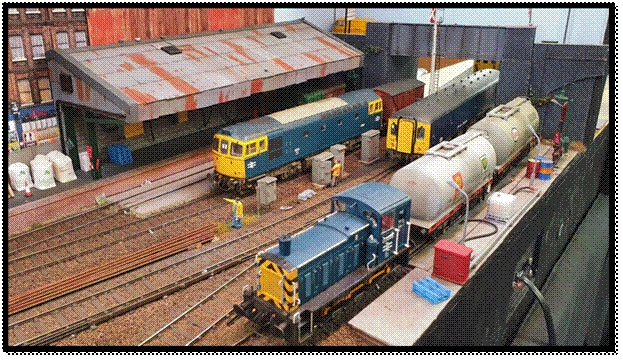 Stand 13 : Universal Vintage 00 — 00 gauge by Tony Penn
Beckenham & West Wickham MRC
Using vintage Wrenn 3 rail track from the 1950s / 60s we can run any make of Vintage Trains. 2 or 3 rail, fine scale to coarse scale, Triang, Trix, Hornby Dublo etc .
Stand 14 : Rossiter Rise — 00 gauge by Terry Tew
Rossiter Rise portrays a fictitious through station somewhere in the suburbs of Northwest London in the mid-late 1950's. It includes platforms serving LMR suburban services, LMR branch line trains and London Underground services. At the front of the layout is a small LT depot.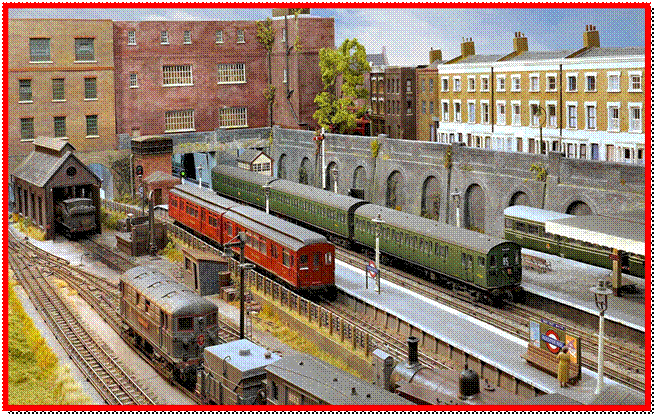 Stand 15 : Ruffles Road — 00 gauge by Alain Turner
Ruffles Road is a 1980s/1990s era model railway exhibition show layout based on an urban London scene. The station at Ruffles Road accommodates passenger and parcel workings as well as being opposite a busy goods yard, making the layout ideal for any diesel locomotive enthusiast. The layout is operated by a DCC system and all locomotives are fitted with state-of-the-art DCC sound.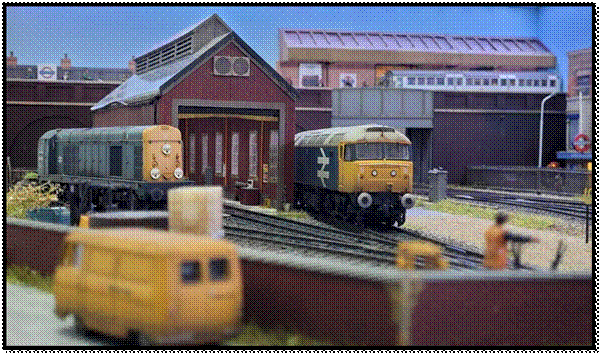 Stand 16 : Where Seagulls Dare — 009 gauge by Richard Standing 009 Society
The layout is set on an island "somewhere warmer than here" and depicts one end of a tourist railway serving a seaside resort. A short branch line continues to a nearby harbour. Passenger services are operated by small steam locomotives, along with a collection of railbuses.
The layout is perhaps unique in featuring an animated backscene, on which the palm trees sway lightly in the breeze. Yachts, power boats, and cruise ships move about in the bay, and clouds, aeroplanes and hot air balloons traverse the sky. Fireworks have also been noted on occasions! Additionally, the layout has ambient sound effects, including horns/whistles, doors, and even the seagulls that give the layout its name.
Stand 17 : File Box Junction — 00 gauge by Dave Young
Beckenham & West Wickham MRC
During Covid I set myself a small project to build layout in two A4 file boxes that I had spare along with some kits/buildings. Come and see the results for yourself. It's amazing what you can do in small space and limited funds.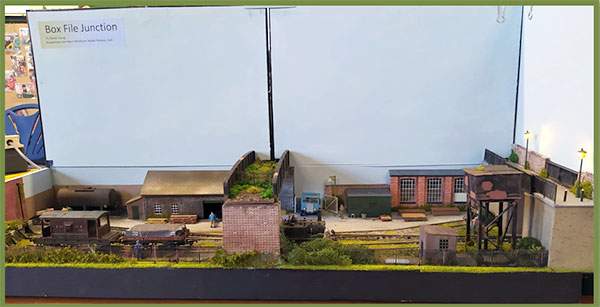 Stand 18 : Hazelcombe — 0 gauge by Jim McGeachy
Hazelcombe is a terminus station on the Western Region of British Rail. It portrays the diesel hydraulic era in its twilight years, 1970 to 1977. The running sequence begins with all hydraulic classes in operation with some maroon coaching stock and moves towards the mid-1970s with universal corporate blue diesels and blue and grey coaching stock. Trains are increasingly hauled by diesel electrics with TOPS numbers. Trains are controlled by GWR lower quadrant signals. There is a small parcels depot, milk depot and locomotive stabling point. Locomotives are all DCC sound fitted, points and signals controlled from a Megapoints control panel.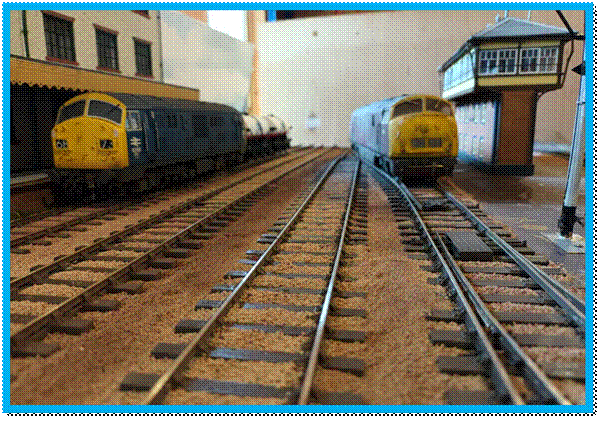 Stand 19 : Bletchinghurst — 00 Gauge by Steve Fryer
This layout is a small Southern branch terminus loosely based on aspects of the Hawkhurst Branch Line and the Kent & East Sussex Railway, with a goods and engine serving facilities. It was known as a hop-pickers line, so the layout contains a small oast house and part of a hopfield. Trains include hop picking specials that used to bring the pickers down to Kent from London for the annual hop picking season, which for many people was their annual holiday and enabled them to earn some money. The layout can be run on either DCC or DC but not together at once.
There is a small engine shed with coaling and water facilities. There is also a grounded coach body which serves as a mess-room. The station lighting fully works using Gaugemaster gas lights which look nice when lit. Most of the buildings are scratch built, the station being a particular favourite. The cattle-dock had to be adapted to fit in the available space. Although being a simple track plan many train movements can be done. The signals are from Dapol which are lit and fully working. They are each fed from a single 9-volt transistor battery.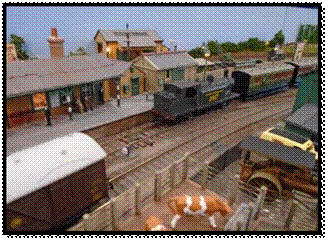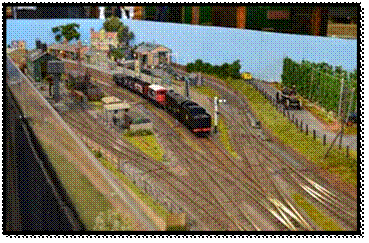 Stand 20 : David Wills — New & Second-hand
New and second-hand items available from all manufacturers. Hornby, Bachmann, Heljan, Lima, Hornby Dublo, 2 or 3 rail, Wrenn and Margate-made Hornby.

Phone — 07803 229235 — Weekday evenings up to 21:00 please.
Stand 21 : Hemlock — Croydon Model Railway Society
The layout is based on the station at Hemlock on the Culm Valley Light Railway. The only departure from prototype is the creation of the Hemlock Branch of the Grand Western Canal, hence the change of the name to Hemlock. The track plan and buildings are of the original Edwardian period.



This is based on Hemlock Station on the Culm Valley line. The line was built as a light railway from Tiverton Junction, on the main line from Paddington to Exeter, to Hemlock Dairy (the chief source of traffic) just outside the village.
The Culm Valley Light Railway was designed by Arthur Cadlick Pain. It was formally opened on 1st June 1876 although traffic actually started running on 29th May. The model is built at 3mm to 1 foot scale with a track gauge of 14.2mm. All the track is built from code 75 bullhead rail fixed to wooden sleepers with plastic chairs.
Stand 22 : Cedar Court Wagon Yard — OO gauge by Tony Rutherford
Beckenham & West Wickham MRC
Cedar Court Wagon Yard is small wagon repair depot and sidings for wagons that require maintenance or repair. With some visits from MPVs and OTMs.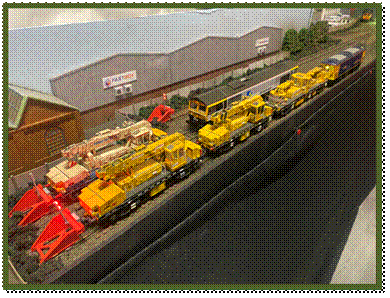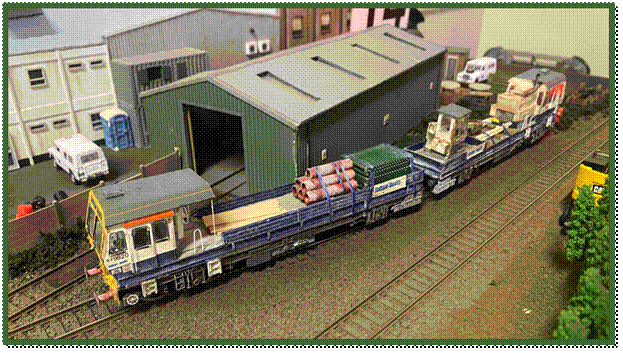 Stand 23 : EPB Preservation Group
EPB Preservation Group (EPBPG) are a registered charity (1132225) dedicated to the preservation and restoration of third rail electric multiple unit (EMU) trains that have operated on the former Southern Region of British Rail.

Website — www.epbpg.co.uk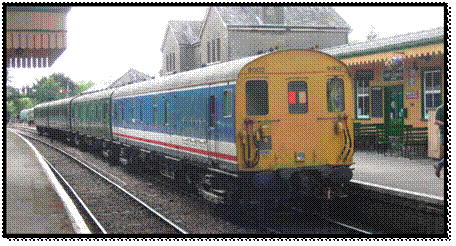 Stand 24 : Croydon Society of Model Engineering
The Croydon Society of Model Engineers was established in 1932 and our members' interests range from 3½", 5" and 7¼" gauge live steam and battery passenger hauling locomotives to traction engines, 3D printing, stationary engines and model railways. We aim to have some of these on our display and show the variety of modelling skills in metal, wood and plastic materials plus electronics that make up the model engineering hobby. New members always welcome — we meet on the third Monday of every month at Forestdale Forum, 1 Bardolph Avenue, Forestdale, Croydon, CR0 9BG.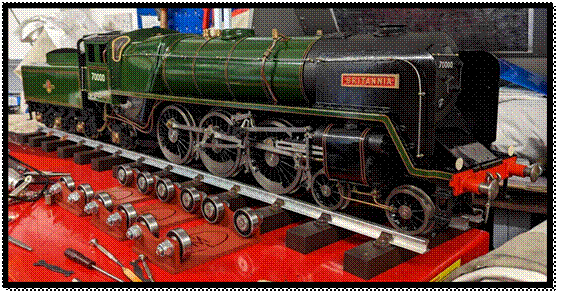 Stand 25 : Durston — 00 gauge by Brian Woolrich
It's 1936 and on the outskirts of the small town of Durston a train pulls into the GWR station. A few passengers alight and cross to the bay platform where the local service to Hemsby waits. A freight bound for Avonmouth slowly passes in the other direction as a pannier shunts wagons into the goods shed. Having received clearance to proceed the stopping service continues its journey towards Stow, to be followed by the branch auto train. None of this happened, only existing in this model created to celebrate the golden age of the GWR.
Stand 26 : Leaflets
Leaflets for up and coming shows, see also www.ukmodelshops.co.uk.


Stand 27 : Julian Bowden
Buses, Books and More...
Stand 28 : Mitchford Park — N gauge by Chris Reavell
Beckenham & West Wickham MRC
Mitchford Park is a simple 2mm, end-to-end N gauge layout set during the early to mid-1990s when it was part of the BR Southern network under Network Southeast and prior to privatisation. It has just one Peco point, a single siding within a single platform station on the end of a single-track branch.


The origin of the layout comes from the former line from Wimbledon to West Croydon, now occupied by the Tramlink. Mitchford Park is a fictitious location on the end of a stub branch that runs off the former. The track on the layout uses the Peco range — set-track and flexi track along with one streamline Y point. All the buildings are scratch built from a variety of Slaters plastic sheeting and Metcalfe card sheets and of the Builder Plus range. Scenics are from Gaugemaster, Woodland Scenics, Javis and Greenscenes. This is a simple end-to-end layout which includes a small single platform station with stabling/goods siding, set amidst a nearby industrial estate including small residences next to a main road and near to a local high street. Another road runs over the railway at the other end from the terminus.
The layout boards are made from a mixture of foamboard, balsa wood and 1.5mm plasticard and can easily fold into a compact size with space in mind. The backscenes used are of the Peco printed range but heavily modified to reflect the locale of suburban south London.
Stand 29 : Doug's Model Trains & Tools
Loads of second-hand trains and modelling tools for all.
Stand 30 : W M Collectables
We sell quality collectable and pre-owned model railway items in most gauges. I specialise in Triang OO and TT but also have a good selection of other makes including Wrenn, Hornby, Hornby Dublo,Trix, Lima, Mainlline, Bachmnn, Airfix and Lone Star.
Stand 31 : Beckenham & West Wickham MRC — CLUB SHOP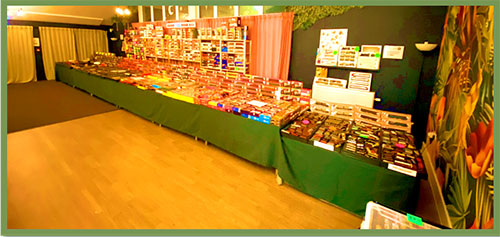 Loads of lovely preowned and new items in stock across all gauges along with bargain bins with missing part from kits or gates/fence you need to complete your scenery and much more. Something for everyone!
Stand 32 : Canute Road Quay — 00 gauge by Graham Muspratt
Canute Road Quay is a dock / quayside layout located somewhere around the Canute Road area within Southampton Docks operated primarily by the Southern Railway between 1946 to 1949. Occasionally it can be operated in different eras such as early or late British Railways periods.
The track plan is based on the 'Timesaver' shunting puzzle incorporating a short run around loop and kickback sidings. A small 1ft fiddle yard utilising short cassette allows for an additional length of the main head shunt and a quick change of rolling stock. The other two shorter sidings / head shunts will be just about able to hold either 2 or 3 off box vans or an SR Bogie Van B and a small shunting loco such the USA Tank or Adams B4.
The very front edge of the layout has been modelled as a dockside wall and the siding at the top right-hand corner includes a small loco shed albeit single road and in semi low relief, being a sub shed of, and a similar look to the one actually at Southampton Docks. For simplicity, the buildings are mixture of modified Ready to Plonk resin low relief type warehouses as the backdrop at the left-hand rear, the two front buildings are L Cut Creative laser cut acting as scenic breaks.
Trackwork is a mixture of open sleepered and inset track as seen around such docks / quays to give some variety to the surfaces.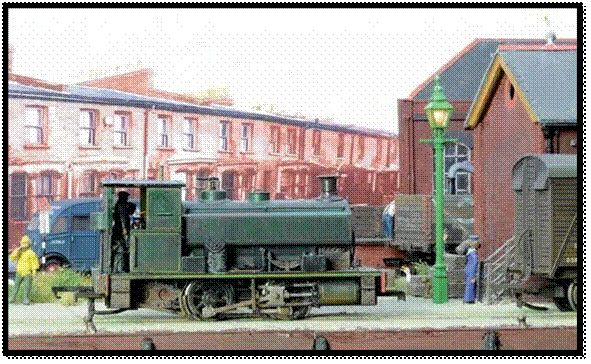 Stand 33 : Clayton West — 00 gauge by Stephanie Dearden
The 3.5 miles long branch line to Clayton West closed to traffic in 1983. This 'what if?' layout is based on a premise that government funding was made available to regenerate the area. Electrification of the branch from the main line was authorised in the early 1990s to the bay platform. The new development covered the colliery site, and there is a distribution centre, which variously handles palletised goods, parcels or finished steel. Locos use NCE DCC system, & points and signals are 16v DC. The layout uses a great many ready-to-use buildings & kits and attempts to portray the last years of the nationalised network, with a wide variety of locomotive types and old and new liveries. Track is Peco points, and C&L track C75 giving a better representation of scale sleeper spacing.
Stand 34 : Heritage in Motion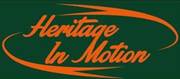 Heritage In Motion are a production and retailer of a wide range of transport DVDs covering a multiple variety of subjects both within the UK and from around the world. As well as the wide selection of DVD products, we also supply wide variety of books published by our partners at Mainline & Maritime, plus for 2023 show we are also highly proud to be one of the sponsors for the Beckenham & West Wickham MRC Show.

Website — https://heritageinmotion.onlineweb.shop

Phone — 07593 932 325

E-mail — info@heritageinmotion.co.uk
Stand 35 : Gauge O Guild
The Guild exists to further all forms of railway modelling in 7mm scale or O gauge track. With 5,500 members, including over 500 outside the UK, the Guild is a focus for O gauge modellers to meet, share and enjoy their mutual interest. You can join online or for more information about the Guild and its services you can call on the number below.

Website — www.gaugeoguild.com

Phone — 01594 841 856

E-mail — enquiries@gaugeoguild.com
Stand 35 : Gauge O Guild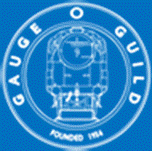 The Guild exists to further all forms of railway modelling in 7mm scale or O gauge track. With 5,500 members, including over 500 outside the UK, the Guild is a focus for O gauge modellers to meet, share and enjoy their mutual interest. You can join online or for more information about the Guild and its services you can call on the number below.

Website — www.gaugeoguild.com

Phone — 01594 841 856

E-mail — enquiries@gaugeoguild.com
Stand 36 : Southeast and Chatham Railway Society


The Society was founded in 1973 to promote interest in the South Eastern and Chatham Railway; its two constituent railways, the London Chatham & Dover Railway and the South Eastern Railway; and its successors. Its aims are to encourage Prototype research, Publication of information & Accurate modelling. Most members are primarily interested in the pre-1923 Grouping era and this interest is reflected in its publications. However, in recent years there has been an increase in interest in later periods, particularly the 1950s and 1960s.
A Society newsletter Onward is published five times a year. This often contains Society news, book reviews, modelling news and reviews, preservation news, requests for information and rolling stock drawings and details. The Society's Journal Invicta is published twice a year and comprises mainly articles based on prototype research complemented where appropriate by drawings, illustrations and photographs. A comprehensive index is published and back numbers are available to new members. Since 1973 this Journal has published what must be the definitive collection of information on the South Eastern and Chatham Railway.

Website — www.southeasternandchathamrailway.co.uk

E-mail — secrsociety@gmail.com
Stand 37 : Double O gauge Association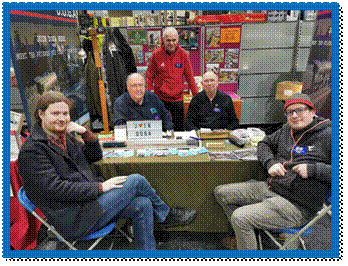 The Double O Gauge Association is an organisation which caters for both new & veteran railway modellers. As well as our quarterly magazine, joining DOGA gives you access to a member-only e-mail discussion forum to get support, advice, experience and knowledge.

Website: www.doubleogauge.com

E-mail: membershipsec@doubleogauge.com

Stand 38 : Food
Light Refreshments Available from Drinks, Homemade cake, Hot food, Chocolate bars, Crisps & More!
| | |
| --- | --- |
| Bacon Roll | £3.00 |
| Hot Sausage Roll | £1.50 |
| Tea/coffee | £1.50 |
If you would like to find out more, please contact the membership secretary, Philip Godfrey. You can arrange to attend some meetings to see for yourself what we do and meet some of our members — you should find some interesting people to discuss trains with. Members come from all backgrounds from accountants to railway engineers and all ages to over 80. Children are welcome when accompanied by a parent member.
Experience is not needed — all we ask is that you have an interest in railways and are prepared to help the club meet its objectives by helping with a layout or at the occasional exhibition. Whether you wish to get involved in complex railway modelling or just playing with trains, you will be very welcome.
The club is also a great opportunity to learn more about model railways and learn from some of the more experienced members who will be happy to show you how things are done.